System Screens
What is System Screens
System Screens allow AppUsers to view or change personal data, view Event statuses, and have a chat with your company's Servicers.
There are two System Screens in Mobsted PWA maker: Profile Screen and History Screen.
Profile Screen
On the Profile screen, some personal data of the AppUser is available - Email, ID (Object Identifier), Date of creation of the object (Client), Notification methods (Email, SMS), settings of the time zone for placing the Client (auto-detection or manual selection). You can customize what kind of data you want to show to the AppUser by checking the "Close from self editing by Object" checkbox when adding Custom Column in the Objects section. If the checkbox is not checked, the client can view and modify the submitted data, with the exception of ID and the date the Object was created.
History Screen
On the History screen, the AppUser has access to all the Events created by this AppUser as well as to the Chat event (for the AppUsers. The Servicer can see this Event in the Backend as Chat Event). Each Event can be viewed, when Event is opened, two tabs are available in it: Comments and Event. In the Comments tab, the chat is available between the client and the company's staff (Servicer). AppUser can send text, photos and videos to the chat. In the Event tab the AppUser can view the details of the Event, the status of the Event, as well as change the status of the Event (If this option is enabled in the Status settings).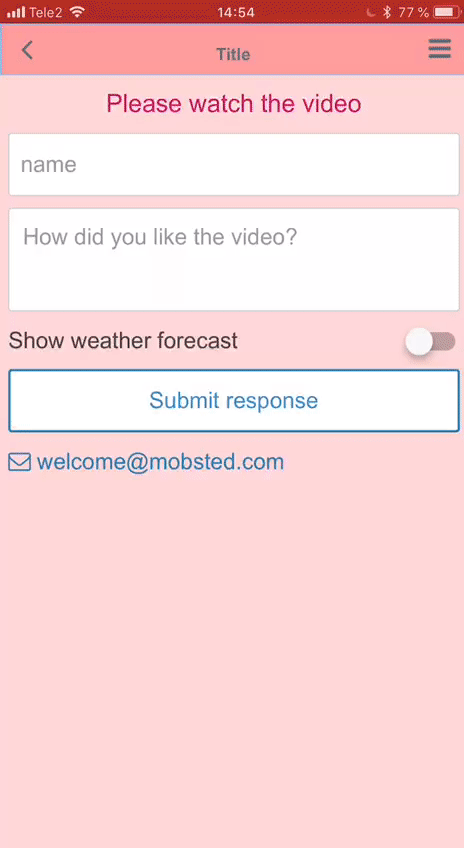 How to add System Screens
To make the system screens visible to the AppUser, follow these steps in the Constructor:
Drag and Drop Navigation Screens Element to the Device Emulator in the middle of the screen
In the Properties of the Navigation Screens Element select the Screens you want to appear to the AppUser
Press Save Screen to apply the changes
Now the Profile and History screens will be available to the AppUsers.

History and Profile System screens can not be customized in the constructor. If you have any suggestions for expanding the functionality of the System screens, please contact us at
support@mobsted.com
---
---
---