Is PWA just an additional Google product, not a substitute for native Apps?
In fact, PWA is not a Product, not a technology and not Google itself!
PWA is just a set of recommendations that Google formed when they discovered the same thing that Mobsted saw years before them in the market of native applications. These recommendations are designed to increase the mobility in the experience and lives of AppUsers, reviewing the usage of web technologies.
PWA is a set of new approaches in web development that are not a complete substitute for native development just yet. PWA technology is mostly used to simplify and speed up lightweight processes.
The new approaches of PWA can significantly increase conversion and penetration into the target audience at the expense of simplicity and elegance. We propose not to replace the native application, but to supplement it with a similar PWA Application, to grab an additional majority of mobile users. There will always be those who trust only the AppStore, so the presence of a Progressive Web Application gives a synergy in clients access.
Key points:
Reliability - page load with unstable internet connection. The essence of PWA technology, includes the maximum reduction in data volume and high speed of response of servers, so the PWA application loads faster than a traditional mobile site. Than, all data is stored in the browser's cache and in the absence of the Internet or its low speed — the primary access goes to the data in the cache on the client's phone, that means that the new data is loaded in the background, which does not keep the user waiting. The load time is almost instant.
Speed - quick and smooth response to AppUser actions.
AppUser Involvement - quick and simple first time app access. The AppUser doesn't need to go to the appStore / Google Play to install the App.
Shortly after Google, the support for the listed set of features was announced by all major browsers: Safari, Firefox, Opera, UC-Browser, etc.
A couple of weeks ago, Microsoft started using Chrome engine in its' browser.
And below is the Pinterest experience in switching to PWA.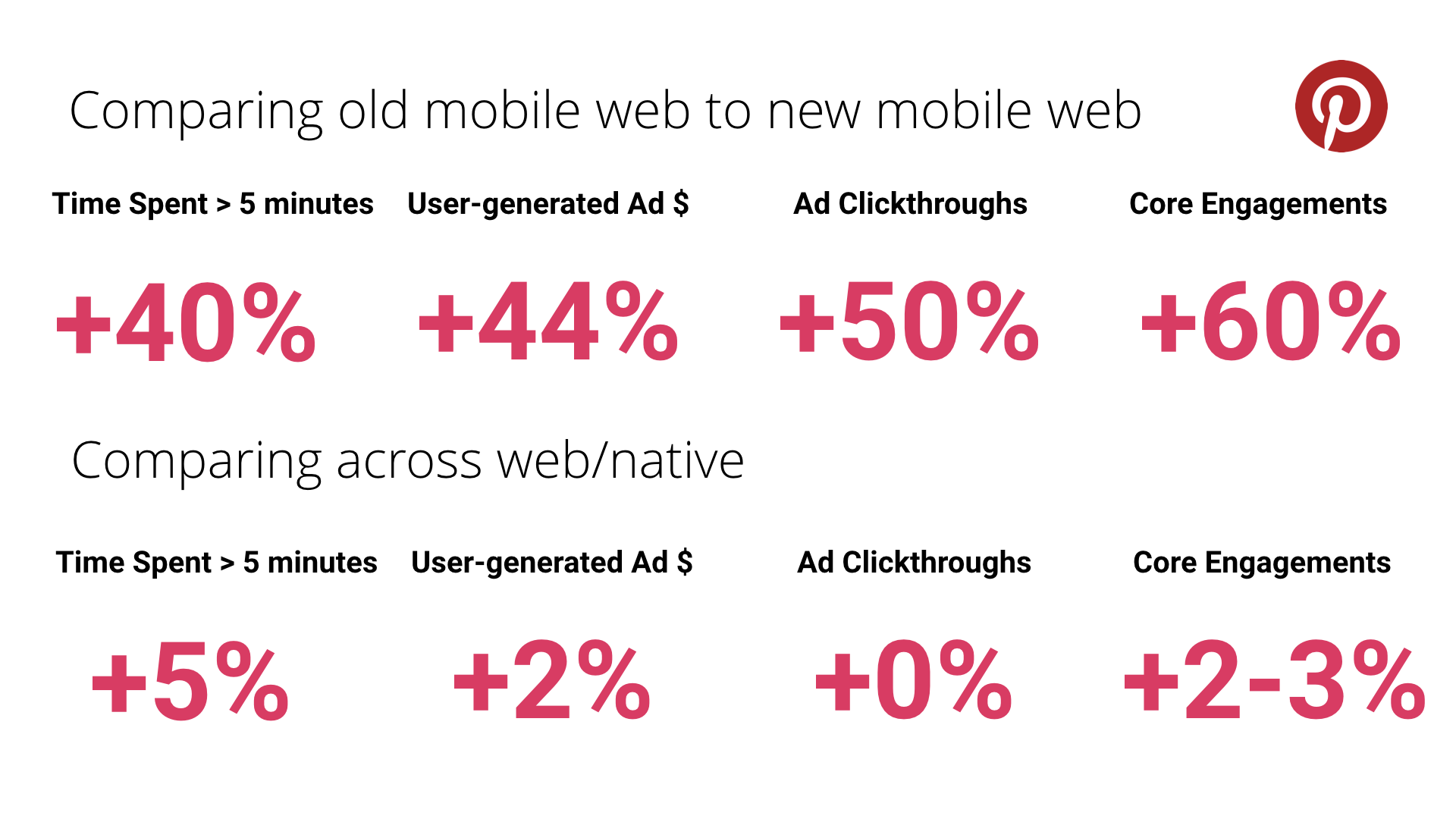 At the same time, you need to understand that some of the important characteristics were added to browsers due to this support, but the main part needed for the PWA approach was already 100% working in the platform. Web-technologies exist for a long time and are in constant development. They are adapted to work on mobile devices, use advanced approaches, equipped with new tools. The essence does not change - it continues to be a site.
---
---
---